The biggest wellness center in Ruzomberok
In summer 2019 we opened the new wellness center, which is the biggest in Ruzomberok. Let yourself draw in with a vision of a perfect relaxation for your body and mind. Enter the oasis of peace and enjoy relax to the fullest. Come and find again your inner harmony. In the wellness center are located 2 whirlpool baths, 4 types of sauna, icefall, cooling bath, experience shower, and a restroom.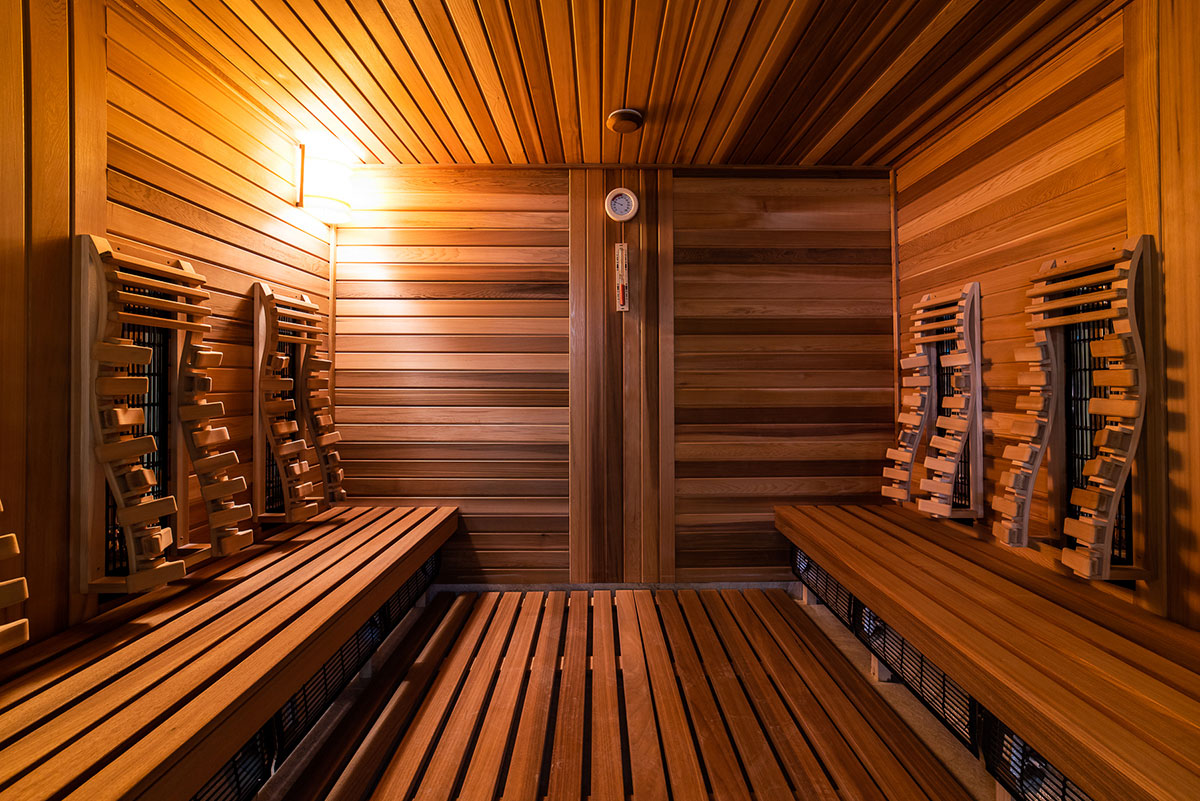 Sauna
Sauna consists of warming up the organism and subsequently cooling down in cold water, which contributes to immunity and good form.
Long ago BC people got to know, that hot stones can maintain and radiate heat. In the medieval times came the sauna to Finland probably from Asia and since then sauna became in Finland a national tradition. A sauna is a place of family and friends meetings and many finish people enjoy sauna ever day.
Health effects of sauna:
Great prevention before different diseases.
When using the sauna regularly it creates immunity against different lungs infections.
Sweating in sauna excludes harmful substances, opens skin pores and betters its appearance.
It was proven that it has positive effects by asthma and allergies.
It has a positive effect on body and soul.
Decreases stiffness of muscles and joints.
Strengthens the cardiovascular system.
The organism is regenerated.
And many more favorable effects.
FINISH SAUNA
It relaxes the muscles and intensely sweats the whole body cleansing, strengthening the immune system and losing calories. It has healing effects in asthma, inflammation and allergies.
STEAM SAUNA
It detoxifies the body, cleans the lungs and relaxes the whole body pleasantly. It has a beneficial effect on the skin, promotes its elasticity. It helps to remove waste from the body. It is suitable for allergies, colds, rheumatic pains.
INFRASAUNA
The radiation penetrates to a depth of 3-4 cm, helps to eliminate cellulite. Reduces muscle and joint stiffness, relieves pain and tension. It evokes many healing and health benefits in the body. Use is also possible for people who cannot use classic sauna.
WHIRLPOOL BATH
It releases body and soul, brings total relaxation and removes mental tension. The combination of hot water, panache and hydromassage simultaneously improves blood circulation, relieves pain, relaxes muscles and whole body.
COOLING TUB , THE PAIL OF COURAGE
It cools your body after sauna, contributes to blood circulation in every part of your body, strengthens the immune system and hardens. If you don't have the courage to sink into the icy water, try the pail of courage.
Principles of proper sauna
Sauna is good to repeat 3x from 5 to 10 minutes with cooling in cold water or air afterward.
The ideal frequency of visiting a sauna is 1x in 1-2 weeks.
Healthy people don't need to worry, the others should consult it with their doctor.
With the sauna, we can start also kids from 3 years.
Before the sauna visit, you shouldn't drink alcoholic drinks.
Monday: 15:00-21:00 hod.
Tuesday: 15:00-21:00 hod.
Wednesday: 15:00-21:00 hod.
Thursday: 15:00-21:00 hod.
Friday: 15:00-21:00 hod.
Saturday: 15:00-21:00 hod.
Sunday:  15:00-21:00 hod.
PRICELIST
HOTEL GUESTS:
11,00 € / adult
EXTERNAL GUESTS:
16,00 € / adult
The price included stay for 2,5 hours in wellness centre and rent of a blanket.
ADULT FRIENDLY WELLNESS. The entrance only from 18 years. 
INFO & RESERVATIONS
Hotel reserves the right to change the opening hours. For current information about the opening hours and wellness center availability please contact the hotel reception: phone: +421 44 431 31 16, e-mail: recepcia@hotelkultura.sk